Welcome to Luvbub.com.au
Moira Forrest is the heart of LUV-BUB. Her passion is to foster parental confidence and promote positive parenting practices. She teaches infant massage and parenting skills, educating families and health professionals on the benefits of positive touch and communication.
She takes a professional, intuitive approach in her guidance and education of families. No two families are the same, so each is given personalised support, guidance and education, aimed at enhancing bonding, to make parenting an enriching, enjoyable experience.
Moira is a registered nurse with over 20 years experience. She is a qualified midwife and specialist in neonatal care, child & family health and lactation. As Certified Infant Massage Instructor with the International Association of Infant Massage, she leads the field in promoting the value of this art here in Sydney.
Moira's Vision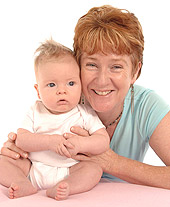 "I understand that parenting is an important, and at times, difficult job that's often underappreciated. My vision is to nurture families and make raising children a more relaxing and enjoyable experience for every parent.
My central goal is to get the message out there that parents are not alone. Whatever the issue, LUV-BUB is available to help. Working together, we will gain you the confidence to fulfil your new role"